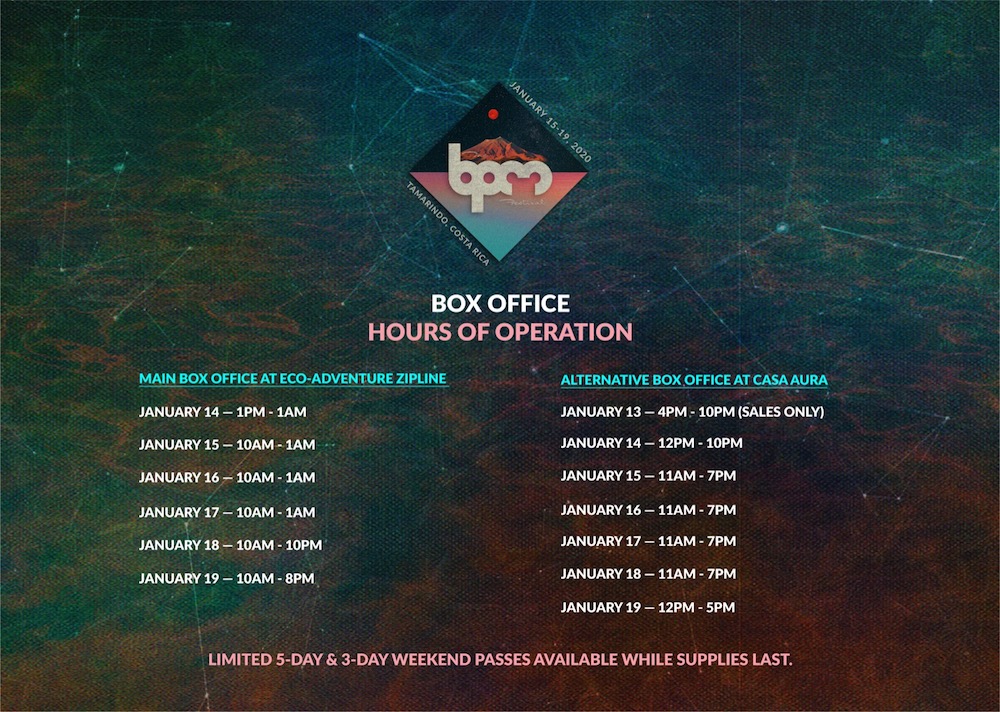 UPDATE: ALL WRISTBAND EXCHANGE + SALES ARE NOW AT THE BPM BOX OFFICE OUTSIDE OF THE JUNGLE / CANOPY.
Important information about BPM Costa Rica Box Office. Pick up your festival wristband, purchase festival passes, and showcase tickets.
WRISTBAND EXCHANGE: Pick up and activate your festival wristband starting on Tuesday, January 14. Every festival pass purchaser MUST bring the following items to pick up order(s) at wristband exchange / will call:
(1) Scannable festival pass PDF barcode.
(2) A valid, government-issued photo ID.
(3) Credit card used to make your purchase.
The name on (1), (2), (3) must match for you to receive your order. If you purchased two or more festival passes, your guest(s) must be physically present with you at wristband exchange/will call to receive the additional festival wristbands.
If you purchased an individual showcase ticket, you do not need to go to Box Office. Your ticket will be exchanged for a wristband at the door of the venue.
BOX OFFICE LOCATION AND HOURS:
MAIN BOX OFFICE at The BPM Festival at Eco-Adventure Zipline Grounds:
Eco-Adventure Zipline, Tamarindo, Costa Rica.
Entrance at the crossroad of Calle Vascos and Bemoral, look for the BPM signs!
For exact location use coordinates: 10.290044, -85.834167
Hours of Operation for Main BPM Box Office:
Friday, January 17 — 10AM – 1AM
Saturday, January 18 — 10AM – 10PM
Sunday, January 19 — 10AM – 8PM
AVAILABLE FOR PURCHASE:
Festival passes (limited supplies remain), The Jungle & Canopy showcase tickets. Accepted methods of payment including cash (Colones or USD), credit card (VISA, MasterCard, American Express, Discover).
BILLFOLD ACTIVATION:
Bring your preferred bank card to the box office to link your wristband. Bar & merchandise items can only be purchased via Billfold. For more information on Billfold cashless payment system, click here.