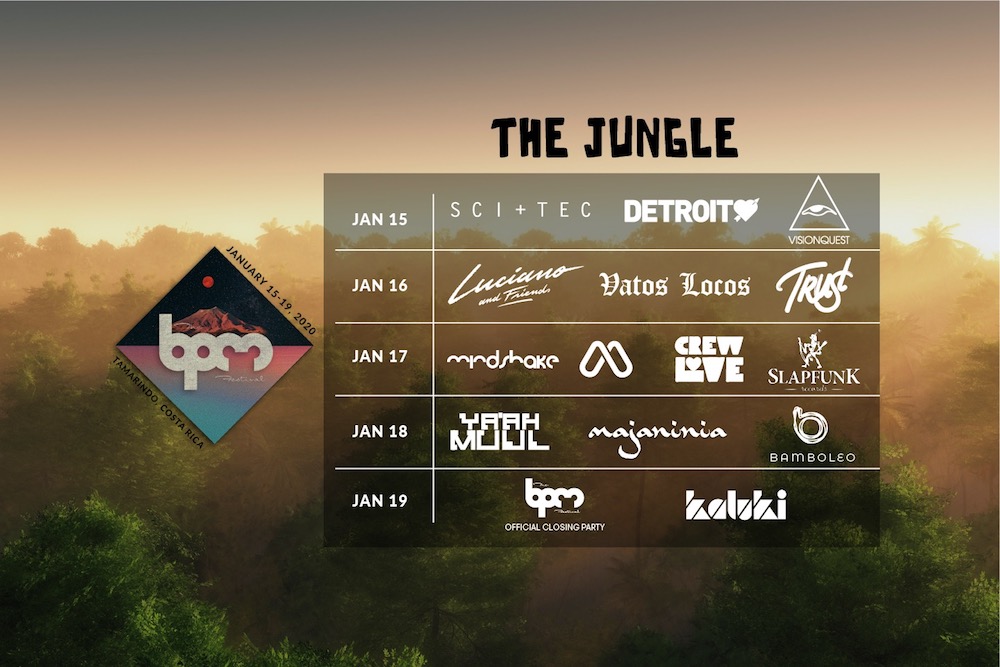 Nightly showcase tickets are on sale now! Join us at our three stages, Pod, Dream Catcher, and Howling Monkey to catch sets from Audiofly, Dubfire, Hito, Ingi Visions, Luciano, Michael Bibi, Nicole Moudaber, Paco Osuna, Rony Seikaly, Skream, Soul Clap, and many more! Read below for our nightly Jungle schedule from 10PM to close at BPM Costa Rica plus ticket links!
*If you have a 5-day or 3-day weekend festival pass (click here to buy), admission to events at The Jungle are included with your pass for the respective dates.*
THE JUNGLE AT ECO-ADVENTURE ZIPLINE, TAMARINDO, COSTA RICA
*The Jungle tickets are 3-for-1 showcases, one ticket will give you access to all showcases/stages in The Jungle for that night/event.*
WEDNESDAY, JANUARY 15 at The Jungle – Tickets
SCI+TEC at the Pod
Dubfire, Art Department, Carlo Lio, Kenny Glasgow
Detroit Love at the Dream Catcher
Carl Craig, Kenny Larkin, Stacey Pullen, Waajeed
Visionquest at the Howling Monkey
Ryan Crosson, Shaun Reeves, Lee Curtiss, Matt Tolfrey, Nitin
THURSDAY, JANUARY 16 at The Jungle – Tickets
Luciano & Friends hosted by Mr. Afterparty at the Pod
Luciano, Audiofly, Vanjee, Knowhat b2b Miky J
Vatos Locos at the Dream Catcher
Hector, Amo, David Gtronic, Jamie Lie A Kwie, Javier Carballo, Mahony, Pinto
TRUST at the Howling Monkey
Nick Curly, Matthias Tanzmann, Mood II Swing, Jamie Roy
FRIDAY, JANUARY 17 at The Jungle – Tickets
Mindshake vs. MOOD at the Pod
Paco Osuna b2b Nicole Moudaber, HITO, Avision, N.I.M
Crew Love at the Dream Catcher
Soul Clap, Wolf + Lamb, PillowTalk (live)
SlapFunk at the Howling Monkey
Ingi Visions, Spokenn, Sanja
SATURDAY, JANUARY 18 at The Jungle – Tickets
YA'AH MUUL hosted by Überhaus at the Pod
DJ Sneak, Hugo Bianco, Antonio Pica, Roberto Surace, Zamoras, Nicola Bernardini
Majaninia at the Dream Catcher
Rony Seikaly, FIIN, Dakap
Bamboleo
Surprise Guest, Neverdogs, Matteo Gatti, Sebastian Ledher.
SUNDAY, JANUARY 19 at The Jungle – Tickets
The BPM Festival Official Closing Party at the Pod
Better Lost Than Stupid, Guti (live), Jesse Calosso b2b Jean Pierre, Makossa, Dani Ramos
Kaluki at the Dream Catcher
Ben Sterling, Joey Daniel, Latmun, Michael Bibi, Pirate Copy, Renato Ratier, Skream
The BPM Festival Official Closing Party at the Howling Monkey
Ben Rau, Harvard Bass, David Berrie, Just Ellie, Brent Hayward
For 5-day and 3-day weekend festival passes, click here.