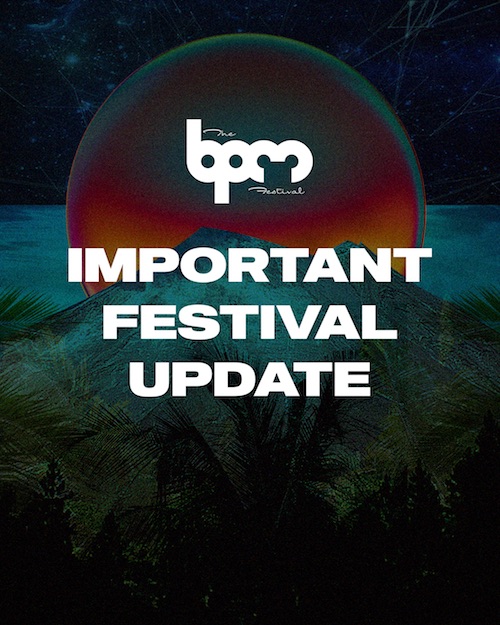 [Spanish translation below]
Dear BPM familia,
After much consideration, we must announce that The BPM Festival: Costa Rica, originally scheduled for March 3-7, 2021, will be postponed to January 12-18, 2022.
From the beginning, plans for our upcoming edition were based on Costa Rican governmental guidance on the gradual return of mass events, which included 100% event capacity by March 2021 in the country. Despite our best efforts in working collaboratively with the local Costa Rican government, we were unable to gain complete clarity on the concrete guidelines needed to move forward with the event as planned and therefore would not be able to deliver the festival experience we strive to give you and more importantly, that you expect from us.
We would like to underscore that the postponement is by no means a result of outbreaks within the country or failure to obtain BPM-related permits or clearances. Our main priority is and always has been to provide our guests with the most enjoyable experience in the safest environment possible. Unfortunately, with the continued uncertainty surrounding COVID-19, this proved to be an unattainable goal, despite our extensive health plan. We explored many options to carry out the festival, including rapid on-site testing, and ultimately share your sentiment in disappointment and frustration in this decision.
While we would love to see you in Tamarindo for The BPM Festival: Costa Rica 2022 and are working with agents to keep as much as the lineup intact as possible for next year, we have devised several options to best accommodate every situation. Ticket buyers for The BPM Festival: Costa Rica 2021 are now able to choose from the below two options:
I would like to keep my ticket(s) for The BPM Festival: Costa Rica 2021, which I'll be able to use for the 2022 edition.*
Ticker buyers who choose to roll over their ticket to next year's edition will receive the below upgrades free of charge:
5-day festival bands will be extended to 7-day bands in 2022
8 additional showcases will be available to attend for those who roll their tickets over
1 item of BPM Merchandise will be gifted as a token of our appreciation
*Please note that this will be the default option for those who do not opt in to be refunded by January 25, 2021.
I would like to receive a refund.
If you have no intention of attending next year's edition of The BPM Festival: Costa Rica, you may request a refund via your Xtixs account by contacting their customer service team. Those looking for a refund will have until January 25, 2021 to opt in to this option.
Thank you for your continued support over the past year, without loyal attendees like you, The BPM Festival would not exist today. We look forward to providing you with the very best and safest experience BPM has to offer in January 2022.
With love,
The BPM Festival
—
Querida familia de BPM,
Después de mucha consideración, debemos anunciar que The BPM Festival: Costa Rica, originalmente programado del 3 al 7 de Marzo de 2021, se pospondrá para el 12 al 18 de Enero de 2022.
Desde el principio, los planes para nuestra próxima edición se basaron en la orientación del gobierno costarricense sobre el regreso gradual de los eventos masivos, que incluyeron el 100% de la capacidad de eventos para marzo de 2021 en el país. A pesar de nuestros mejores esfuerzos en trabajar en colaboración con el gobierno de Costa Rica, no pudimos obtener una claridad completa sobre las pautas concretas necesarias para seguir adelante con el evento según lo planeado y, por lo tanto, no podríamos darles la experiencia del festival que nos esforzamos por brindarle; y lo más importante, lo que esperan de nosotros.
Nos gustaría subrayar que el aplazamiento no es de ninguna manera el resultado de brotes dentro del país, la falta de obtención de permisos o autorizaciones relacionados con BPM. Nuestra principal prioridad es y siempre ha sido brindar a nuestros asistentes la experiencia más agradable en el entorno más seguro posible. Desafortunadamente, con la continua incertidumbre que rodea al COVID-19, este resultó ser un objetivo inalcanzable, a pesar de nuestro extenso plan de salud. Exploramos muchas opciones para llevar a cabo el festival, incluidas las pruebas rápidas en el lugar, y finalmente compartimos su sentimiento de decepción y frustración por esta decisión.
Si bien nos encantaría verlos en Tamarindo el año que viene en The BPM Festival: Costa Rica 2022 y estamos trabajando con agentes para mantener el lineup de artistas intacto como sea posible para el próximo año, hemos ideado varias opciones para adaptarse mejor a cada situación. Quienes compraron boletos para The BPM Festival: Costa Rica 2021 ahora pueden elegir entre las dos opciones siguientes:
1) Me gustaría conservar mi(s) boleto(s) para el BPM Festival: Costa Rica 2021, que podré usar para la edición 2022.*
Los compradores que opten por transferir su boleto actual a la edición del 2021, recibirán las siguientes actualizaciones sin cargo:
Las bandas del festival de 5 días se extenderán a las bandas de 7 días en 2022.
Habrá 8 showcases adicionales disponibles a los cuales podrán asistir aquellos que acrediten sus pases para usar el próximo año.
Se regalará 1 artículo de mercancía BPM como muestra de nuestro
Agradecimiento.
*Tenga en cuenta que esta será la opción predeterminada para aquellos que no
opten por recibir el reembolso antes del 25 de Enero de 2021.
2) Me gustaría recibir un reembolso.
Si no tiene intención de asistir a la edición del próximo año del BPM Festival: Costa Rica, puede solicitar un reembolso a través de su cuenta de Xtixs comunicándose con su equipo de servicio al cliente. Aquellos que buscan un reembolso tendrán hasta el 25 de Enero de 2021 para optar por esta opción.
Gracias por su continuo apoyo durante el año pasado, sin asistentes leales como ustedes, The BPM Festival no existiría hoy. Esperamos poder brindarles la mejor y más segura experiencia que BPM tiene para ofrecerles en enero de 2022.
Con amor,
The BPM Festival